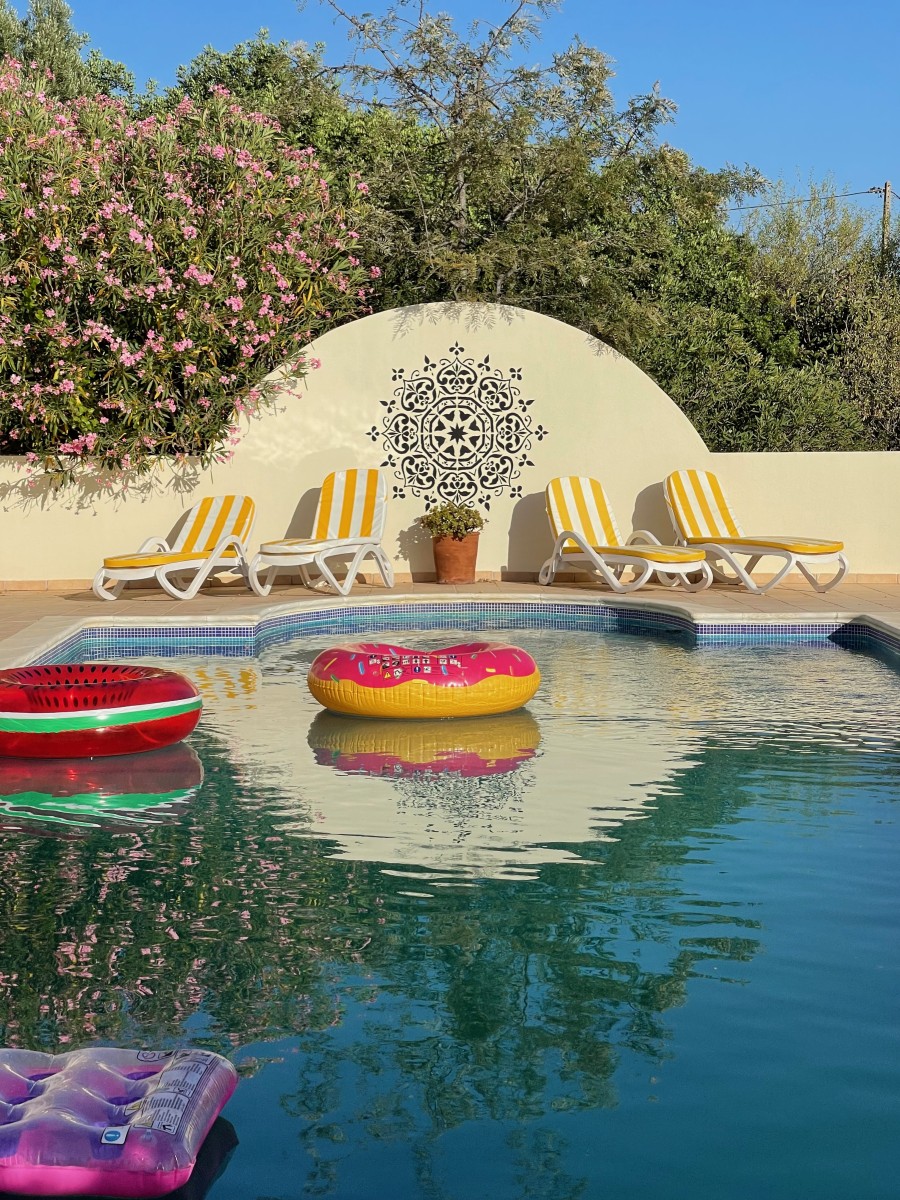 Casa do Monte
135036 / AL
Casa do Monte –  Luxury Villa just minutes from Vilamoura
 Surrounded by nature this lovely 4 bedroom villa is set in the quiet , tranquil hills of Loulé. It is only a short drive from Vilamoura , Quinta do Lago and Vale do Lobo.
Casa do Monte is ideal for families , spacious with a large swmming pool and tastefully decorated by the owner who is an interior designer in Dubai.
Enjoy the beautiful sunsets whilst lying by the pool or having a sundowner on the terrace taking in the extensive non stopping views, you will never want to leave.
Facilities
Vilamoura is a town in the Algarve region of southern Portugal. It's known for its large marina, golf courses and casino, and for sandy beaches.  Cerro da Vila archaeological museum has an old Roman ruin  with bathhouses and mosaics. Red cliffs line Falésia Beach, which stretches west to the fishing village Olhos de Água. Vilamoura merges with the town of Quarteira, to the southeast, with more beaches and fun activities for the whole family from Waterparks to Adventure parks and the krazy world zoo.
There is so much to do , that you can fill your days with fun activities from;
Water Sports
Buggy Riding
Horse Riding
Bird Watching
Sailing
Long Walks
Or simply relax by the pool and take in what Casa do Monte has to offer , never a dull moment.
Our friendly staff can help you with ideas on all activities just contact us via phone or email.
The GROUND FLOOR  of the villa has 4 bedrooms:
BEDROOM 1: Master bedroom with ensuite bath and shower.
BEDROOM 2: Double bedroom with ensuite bathroom with shower.
BEDROOM 3: Twin bedroom with ensuite bathroom
BEDROOM 4: Twin bedroom
Separate Bathroom with shower
KITCHEN: Large fully equipped kitchen, including dishwasher and large American double fridge, as well as a full size family wooden table perfect for big family meals.
LIVING ROOM: Large living area with fire place, big screen TV and WiFi through out the house.
LOWER LEVEL
LAUNDRY: with washing machine, iron board and iron
Entertainment area with Ping Pong table
Rates
Prices for 2023 (per Week)
Economy Season – €1,606.00
25 Nov – 08 Dec
Low Season – €1,942.00
23 Sept – 24 Nov
Mid Season – €2,054.00
09 Sept – 22 Sept
High season – €2,502.00
27 Aug – 08 Sept
09 Dec – 31 Dec
Peak Season – €3,400.00
08 Jul  –  26 Aug
*
Prices for 2024 (per Week)
Economy Season – €1,560.00
08 Jan – 31 Mar
15 Apr – 12 May
25 Nov – 08 Dec
Low Season – €1,920.00
23 Sept – 24 Nov
Mid Season – €2,040.00
13 May – 16 June
09 Sept – 22 Sept
High season – €2,520.00
01 Jan – 07 Jan
25 Mar – 14 Apr
17 Jun – 07 Jul
26 Aug – 08 Sept
09 Dec – 31 Dec
Peak Season – €3,480.00
08 Jul  –  25 Aug
Holiday Rental Policies
Loulé