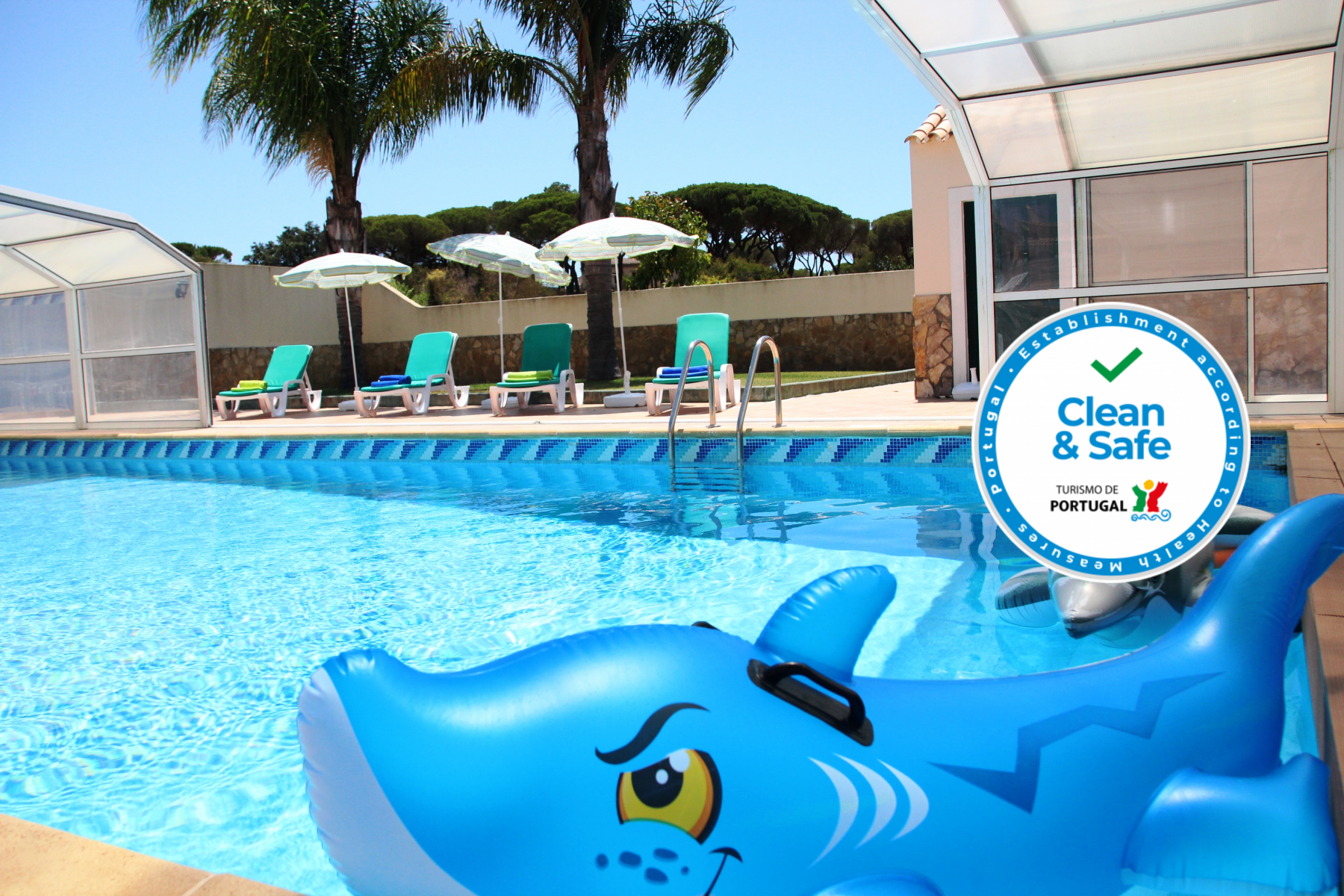 Villa Fonte Santa
25152/AL
Villa Fonte Santa – 5 bedrooms sleeps up to 10 people
(close to Quinta do Lago and Vale de Lobo)
As you drive through the gate onto the driveway towards the villa, you immediately have a sense of privacy.  Set on a 5000m2 piece of land, this 5 bedroom air conditioned  and can sleep up to 12 people.  The large 12m x 6m pool is gated, for peace of mind for those with small children. The backyard boasts a covered bbq area, small 2nd kitchen and w/c.  The villa is ideal for a holiday away from it all, whilst still enjoying the closeness to the beaches, supermarkets, fun parks, shops, etc.
This post is also available in: PT
Facilities
The TOP LEVEL of the villa has 3 bedrooms:
BEDROOM 1: Master bedroom with ensuite jacuzzi and shower and a varandah overlooking the grassed area and pool.
BEDROOM 2: Double bedroom
BEDROOM 3: Double bedroom
Bathroom with shower shared by bedroom 2 and 3.
2ND LIVING ROOM: This second living room has flat screen TV, and sofa bed.
LOWER LEVEL
KITCHEN: Large fully equipped kitchen, including dishwasher
LIVING ROOM: Large living and dining room with ping pong table in the bar section.
BEDROOM 4: Double bedroom
BEDROOM 5: Twin bedroom
BATHROOM: Bathroom with bathtub
LAUNDRY: with washing machine and dryer
GARAGE: for 2 cars.
Ideally situated, the villa is walking distance to the supermarket.  Aqua Show fun park is a mere 1.5km.  Almancil and Vale de Lobo are a 5 minute drive.  Quinta do Lago a 10 minute drive.  Plenty of restaurants to choose from.  Some within walking distance, including the Pizzeria at Alsakia Village.  The famous Marouf Piri Piri Chicken is just around the corner.
Rates
Prices for 2023 (per Week)
Economy Season – €1,843.00
25 Nov – 08 Dec
Low Season – €2,220.00
23 Sept – 24 Nov
Mid Season – €2,700.00
09 Sept – 22 Sept
High season – €3,292.00
27 Aug – 08 Sept
09 Dec – 31 Dec
Peak Season – €3,784.00
08 Jul  –  26 Aug
*
Prices for 2024 (per Week)
Economy Season – €2,400.00
08 Jan – 24 Mar
15 Apr – 12 May
25 Nov – 08 Dec
Low Season – €2,880.00
23 Sept – 24 Nov
Mid Season – €3,000.00
13 May – 16 June
09 Sept – 22 Sept
High season – €3,702.00
01 Jan – 07 Jan
25 Mar – 14 Apr
17 Jun – 07 Jul
26 Aug – 08 Sept
09 Dec – 31 Dec
Peak Season – €4,284.00
08 Jul  –  25 Aug
Holiday Rental Policies
Quarteira